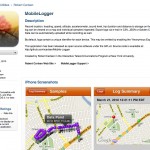 After several rounds of rejection, Mobile Logger has been accepted and is available on the App Store! Feel free to try it out; hopefully some folks will find it useful. The source code for the application has been released under the GPL and is available on github.
I'm still actively recruiting participants for my ongoing thesis project, which involves visualizing cyclists in New York City. If you'd like your riding to become incorporated in some pretty pictures to be presented in May, then by all means start logging (and thank you in advance)!
Be warned, it's a battery hog. Feel free to let me know if it gives you any trouble.