Monday, March 1st, 2010
Our assignment last week was to use Foursquare to log our daily travels. This week, we were asked to use a classmate's Foursquare check-in history as the source of our visualizations. I was given Bryan Lence's data and set off to see what was there.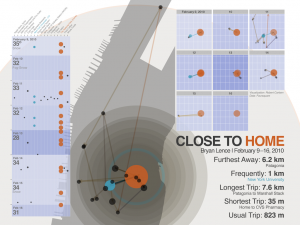 Over the past few weeks I've been teaching myself the R "environment for statistical computing and graphics". It's an open source project and has a doubly steep learning curve (for me, at least) of an unfamiliar syntax and medium (statistics). I can see it's power for visualizations, however, when used to reveal interesting associations which can be further refined in other graphics software (in this case, Illustrator).