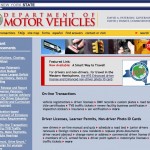 Our first assignment was to redesign the front page of the New York State Motor Vehicle Services website. I've recently had to navigate it to update my driver's license, and found it very frustrating to use. The front page is overwhelming in the number of links and choices initially presented.
In the spirit of John Maeda's Laws of Simplicity, I used this as an experiment in asking "What can you add by taking something away?" – In particular, I was attempting to add some sanity through organization. My notes detailing the reorganization are below.
What are common (high-priority) uses for the DMV site?
Paying fines.
Renewing driver's license.
Moving / new license.
Vehicle Registration.
Vehicle title. (private sales, likely)
Find location – hours.
Get forms.
Read regulations.
Business services, licensing, regulation
Sort:
Traffic Violations Bureau
– pay fines
– plead not guilty and request a hearing
Driver Services
-licensing
-renewal
-testing
-permits
-non-driver id
Vehicle Services
-title
-register, renew / new
-transfer ownership
Business Services
-regulations
-information
Forms / Publications
-all forms for above services
-driver's manual
-sample tests
Locations / Contact
-find licensing and testing locations
-get operating hours
-telephone
Search
-site-site, full text search.
-find form by number or title
Integrate/Prioritize:
Search
Traffic Violations
Licensing and Vehicle Services
Information / Regulations
Contact Information
Forms
Everything else will descend from these categories.