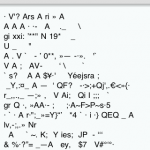 The source code for the Tesseract OCR for iPhone project has been published. It's really simple – more of a skeleton, proof-of-concept project than anything else. Still, though, it's neat to have nearly point-and-shoot text conversion in your pocket.
The project page is: Pocket OCR
The source code is available at github: http://github.com/rcarlsen/Pocket-OCR
There is certainly a lot of improvement to be made. Automatic color correction. Page layout recognition. Perspective correction…the list could go on. The code is there, so…fork away!
(the thumbnail is a bit tongue-in-cheek…but honest. good conversion requires a good source image: well-lit, macro, focused and tightly cropped seems best)