Wednesday, March 3rd, 2010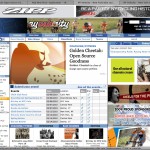 Golden Cheetah has gotten a really nice write-up on the "bike racing, news and events" site nyvelocity.com. The article was featured on the front page for a time, sporting the brand new icon from Dan Schmalz.
A couple of weeks ago I sat down with Andy Shen over lunch and discussed the project, it's developer community and my thoughts on open source software. He did a really nice job parsing my semi-coherent babel and combining it with Sean and Justin's perspectives into a thorough history of Golden Cheetah, brief outline of how the program grows through user contributions and a great outline of the major features (and he even built some hype for the forthcoming mapping and long-term metrics features).
Great to see! Read the article at:
http://nyvelocity.com/content/coachingfitness/2010/golden-cheetah-open-source-goodness